Juli
an Assange, fundador de WikiLeaks:
"Estamos cambiando lo que la gente acepta que es la verdad"
Para una lectura más cómoda por favor haga clic en el enlace de abajo:
El fundador y director de WikiLeaks abre las puertas de su "prisión" en la campiña inglesa, una casa en la que vive bajo arresto domiciliar, para conversar con El Faro sobre los documentos filtrados que han transformado al mundo, y a él mismo, desde hace un año. Assange atribuye en parte a sus filtraciones la llamada Revolución Jazmín, la serie de movimientos ciudadanos en África del Norte y Oriente Cercano, que ya ha terminado con dos dictaduras y amenaza a otras. Esto, cree el australiano, apenas comienza.
P

ublicado el 8 de Mayo de 2011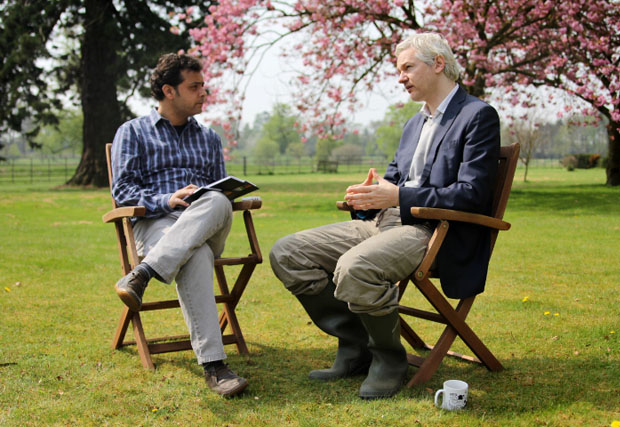 Foto Juan Carrascal
La filtración de documentos confidenciales del ejército y del Departamento de Estado de Estados Unidos catapultaron a WikiLeaks y a su director, Julian Assange, hacia una fama que parece chocar con el carácter reservado y secreto de una organización compuesta porhackers, expertos en criptografía y penetración de sistemas informáticos más que en relaciones públicas y popularidad digna de estrellas de rock. De hecho, sin tocar ningún instrumento musical y sin haber cantado jamás, Assange fue nombrado en 2010 la "Estrella Rock" del año por la revista Rolling Stone. Este australiano de 40 años, obsesionado con la develación de secretos de las operaciones de gobiernos y empresas, vive hoy bajo arresto domiciliario en el campo inglés, esperando una resolución judicial sobre la extradición que Suecia ha solicitado por denuncias de acoso sexual en su contra.
Hace tres semanas, en una mañana extrañamente soleada para los estándares ingleses, Assange nos recibió en esta residencia, llamada Ellingham Hall, que pertenece a un amigo suyo que le ha ayudado a pagar las cuentas de su defensa. Es uno de los muchos amigos que Assange ha encontrado desde que comenzó a revelar las operaciones militares estadounidenses en Afganistán e Irak, en marzo de 2010. En este contexto, conversamos durante poco más de una hora, para reflexionar sobre el impacto de WikiLeaks y las transformaciones que, él cree, están desenvolviéndose debido a su trabajo. Cuando terminó la entrevista me dijo: "Es la hora de la venganza". Me sentó frente a una cámara de vídeo suya y comenzó a interrogarme sobre El Faro y sobre El Salvador durante una hora.
Sus seguidores dicen que las acusaciones en su contra son solo una trampa montada por la CIA para callarlo, y él mismo cree que Washington ha desatado una cacería en su contra. En Estados Unidos, un soldado llamado Bradley Manning, acusado de haber entregado los controversiales documentos a WikiLeaks, guarda prisión en condiciones de aislamiento. Un gran jurado estadounidense ha abierto una investigación por espionaje contra Assange.
Después de la conmoción mundial que causó la publicación de los primeros cables en cinco grandes medios alrededor del mundo, ahora WikiLeaks ha cambiado de estrategia: los está entregando de país en país a medios locales. El Faro comenzará a publicar los cables de la embajada estadounidense en San Salvador a partir de la próxima semana.
Carlos Dada(CD): ¿Cuál cree usted que es el verdadero impacto de WikiLeaks en el mundo?

Julian Assange (JA): El impacto es doble y para algunos de ellos es demasiado temprano para verlo, así que hay todos estos miles de eventos que poseen un peso específico individual, han resultado en investigaciones, cambios de gobierno, han estimulado movimientos revolucionarios y así sucesivamente; el otro cambio es en el "zeitgeist", en el estado de ánimo general sobre lo que es el estándar para el periodismo, qué es el estándar para los medios y qué es aceptable hacer, y es difícil saber cuál de estas tendrá el impacto más significativo al final. Creo que si podemos guiar el proceso bien y podemos defendernos a nosotros mismos y defender a otros que se están involucrando en actividades similares, entonces este segundo componente, que está cambiando el estado de ánimo de las personas, el estado de ánimo de los periodistas alrededor del mundo y los estándares con los que deberían estar viviendo, esto tendrá el mayor impacto continuo al final.
CD: Usted dijo recientemente: "Los cables diplomáticos son la enciclopedia más extraordinaria de cómo el mundo funciona en un nivel internacional y de cómo los países funcionan". ¿Qué espera al final que genere WikiLeaks? Se me viene a la mente la frase del historiador Timothy Garton Ash: "En lugar de provocar repudio a la diplomacia de Estados Unidos esto reafirma la diplomacia de EE.UU."

JA: Lo que creo que producirán los cables diplomáticos de Estados Unidos es una fuente a la que todos en el mundo puedan referirse, así que eso es un tipo de andamio para tomar decisiones, el andamio para ver cómo funcionan las relaciones internacionales y cómo funciona la influencia de grandes negocios sobre el gobierno, cómo funciona Estados Unidos en términos de sus promociones y ciertas actividades alrededor del mundo y cómo trabajan los países internamente, al menos cómo es visto por las embajadas de Estados Unidos. Esto es una visión del mundo desde la(s) embajada(s) de Estados Unidos y de sus aproximadamente 6 mil volúmenes de material, así que es quizás la más grande enciclopedia jamás hecha y trata sobre eventos que han ocurrido predominantemente en los últimos seis años, por tanto es muy relevante e importante, personas en situaciones de conflicto y presión, pero codificado, dentro de esto está la visión del mundo de Estados Unidos. La mitad de la visión del mundo de Estados Unidos es en realidad algo bueno, así Estados Unidos como un imperio ha sido exitoso porque se ha casado con la preocupación expresa por los derechos humanos y la democracia junto con el poder militar, comercial y de la inteligencia. Así que ha tenido la zanahoria blanda en una mano y el palo brutal en la otra mano, ha utilizado ambos en sucesión para aplicar presión y salirse con la suya.
CD:Por supuesto que ha escuchado muchas veces que algunos dicen que usted está poniendo en juego la seguridad mundial al filtrar estos cables.

JA:Cada vez que publicamos algo, no solamente este material, obtenemos las respuestas estándar y no sólo para nosotros sino también para otras organizaciones: que hay vidas en juego, etcétera, etcétera. Pero tenemos un historial de cuatro años de publicaciones y nadie hasta el momento, ningún gobierno, reclama haber resultado lastimado por esas publicaciones.
CD: ¿Cree que está cambiando el orden del mundo a través de estas filtraciones?

JA: Estamos cambiando lo que las personas aceptan que es la verdad, eso es muy importante, eso es la base en la que ocurre toda discusión política. Es aún muy temprano para Cablegate para decirle exactamente cómo es y el número de países afectados, también significa que es difícil para nosotros retroceder y ver, si usted gusta, desde el cielo sobre todo lo que ha pasado, incluso nosotros no podemos ir al paso de la cantidad de nuevas historias y revelaciones que son generadas cada día de estas actividades, pero si miramos atrás, por ejemplo al Diario de Guerra en Afganistán, donde publicamos 91 reportes sobre la guerra de Estados Unidos en Afganistán y revelamos los detalles específicos de 20 mil muertes que el ejército de Estados Unidos grabó, podemos ver que antes de esa publicación se generó un debate en Estados Unidos sobre si la guerra en Afganistán iba bien o no, si era algo bueno y si los Estados Unidos iban a ganar y luego surgieron muchas voces que dijeron "No es algo bueno y debería haber una estrategia de salida". Luego de la publicación de este material las voces se unificaron en que la guerra en Afganistan iba terriblemente mal y eso se volvió la base para la discusión, un hecho completamente aceptado.
CD: Usted ha relacionado las filtraciones con, por ejemplo, lo que está sucediendo en África del Norte. ¿Atribuye a WikiLeaks los cambios en África del Norte, la Revolución Jazmín?

JA: Los profesores en Túnez y un número de otros operadores de medios en Túnez atribuyen la chispa que encendió estos cambios al lanzamiento de estos cables y es una historia bastante interesante en cuanto a cómo eso sucedió probablemente. En primer lugar tenemos que comprender que esa región, que la región del Medio Oriente y África del Norte se estaba desarrollando de tal manera que hizo que una chispa iniciara una revolución. En Túnez hay un número creciente de personas jóvenes, educadas y desempleadas, el internet y la conectividad estaban incrementándose y, tal vez lo más importante de todo, la cantidad de antenas parabólicas, antenas parabólicas de TV que estaba trayendo en casas individuales fue también el más alto que haya habido, así que en esa situación tuvimos entonces esos cables diplomáticos publicados sobre Túnez a través del socio de medios Al-Akhbar y a través de The Guardian y Le Monde. Al-Akhbar publica en árabe, los idiomas utilizados en Túnez son predominantemente árabe y francés. Inició un sitio llamado Tunileaks el cual es un tipo de sitio web en apoyo a WikiLeaks que tomó cada cable que fue publicado sobre Túnez y lo tradujo a francés. Al-Akhbar fue entonces atacado y redirigido a un sitio de sexo saudí por 24 horas, eventualmente tomaron el control de nuevo y fue atacado otra vez, un ataque muy sofisticado que atribuyo a un activo del Estado debido a su grado de sofisticación el cual borró completamente todas las actividades de publicación de cables del periódico. De manera similar, Túnez luego prohibió WikiLeaks y suspendió Al-Akhbar, nos bloqueó el acceso al internet y los hackers de computadora que nos apoyaban, todo esto a inicios de diciembre, ingresaron a sitios web del gobierno de Túnez y redirigieron la mayoría de sitios web del gobierno de Túnez a WikiLeaks y en particular a un cable que hablaba sobre el opulento estilo de vida que llevaban (el presidente) Ben Ali y su esposa y la corrupción que había allí y tal vez lo más importante era que hablaba acerca de cuál era el punto de vista de Estados Unidos sobre el régimen de Ben Ali y el punto de vista era negativo, estaba claro al leer este cable que, si había un conflicto entre el ejército y el régimen político, Estados Unidos apoyaría al ejército, eso mandó una señal a las personas que trabajaban dentro de Túnez pero también importante al apoyo occidental para el régimen de Ben Ali y al apoyo regional de personas como Mubarak en Israel para el régimen de Ben Ali. Luego, el 16 de diciembre un joven técnico de computadoras de 26 años de edad se prendió en fuego a sí mismo y eso luego llevó a este escándalo virtual... escándalo intelectual sobre lo que estaba pasando en el reino físico, algo con lo que todos se pudiesen relacionar, y el 4 de enero murió en el hospital y... Este material fue difundido a través de Al Jazeera, y la decisión política de Al Jazeera de reportar esas protestas, de filmarlas y mostrarlas, y de reportar los cables y difundirlos en árabe a la región del Medio Oriente es algo que atribuyo como uno de los mayores factores involucrados.
CD: La población que describió en Túnez, jóvenes, educados y desempleados, y así es como van las cosas ahora mismo en África del Norte, ¿por qué cree usted que esto no está movilizando a las personas jóvenes educadas en el mundo desarrollado? No digo que contra sus gobiernos o algo así, digo sobre cualquier causa.

JA: Es una pregunta muy interesante, pero rechazo parcialmente la premisa. En realidad hemos tenido más de 50 seguidores arrestados por el FBI y Scotland Yard sobre quienes se alegó haber estado involucrados en realizar ataques a Visa y MasterCard y otras compañías financieras de Estados Unidos, que realizaron un bloqueo financiero ilegal a nosotros a instancias del Departamento de Estado. Algo así no ha pasado por largo tiempo en los Estados Unidos. De manera similar, las protestas que han ocurrido en las calles o afuera de las embajadas de Estados Unidos en el Reino Unido no han pasado por un nuevo fenómeno a tal grado en un largo tiempo, pero de manera más general usted está en lo correcto, que el grado de descontento físico con el régimen en los Estados Unidos o el Reino Unido es mucho menor que lo que ha sido en el Medio Oriente. Mi opinión sobre esto es que las estructuras en el mundo occidental son tan fiscales que el poder es delegado y controlado a través de relaciones contractuales, a través de quién controla qué cuenta bancaria y así sucesivamente y como resultado si hay algún cambio en el estado de ánimo político y un cambio en la voluntad política no afecta a quién controla qué...
CD:La estructura de poder…

JA: Al final, quién controla qué, es lo mismo que la estructura de poder. De manera que esta fiscalización significa que un cambio en la política, un cambio en lo que las personas creen, es poco probable que cambie lo que las personas hacen y eso significa que los medios de comunicación en el occidente no son muy importantes, porque lo que hacen los medios de comunicación es cambiar lo que las personas piensan y otra forma de pensar acerca de esto es por qué en Estados Unidos hay tanta libertad de expresión históricamente y en todos los países occidentales. Si usted es ciudadano estadounidense, puede poner un blog y escribir lo que usted quiera, eso no significa que alguien lo leerá pero puede decir lo que quiera sobre cualquier presidente ejecutivo de una compañía grande sin tener mucha represalia. Yo digo que la razón por la cual puede hacer esto es porque no haría ninguna diferencia lo que usted diga, de manera similar en el occidente los pájaros y abejas son libres de volar y hacer lo que quieran porque no hacen una diferencia, no afectarían a quién posee qué, a quién controla qué.
CD: ¿No cree usted que un medio de comunicación como el New York Times es suficientemente influyente? Quiero decir que no estamos hablando de blogs aquí.

JA: La forma en la que la prensa está controlando los Estados Unidos es como una sopa y tiene que preguntarse cuál es el sabor de la sopa. Y el sabor de la sopa depende de qué tanto de un ingrediente se le ponga contra qué tanto de otro ingrediente, de modo que puede tener personas independientes poniendo sus pequeños granos de pimienta en la sopa pero el sabor verdadero será controlado por si pone dos litros de leche en la sopa o si pone una calabaza entera en la sopa y eso es lo que vemos con las organizaciones como el New York Times o como Fox News o CNN, hay tanto dumping sobre un punto de vista político en particular, sobre una opinión en particular que ahoga y lava los hechos y opiniones de fuentes minoritarias, no es que no pueda decir cosas en particular, sino que serán ahogadas por estos grandes editoriales influyentes. Ahora el New York Times ha logrado proyectar una imagen que es un editorial independiente sin miedo y eso simplemente no es verdad. Veamos el caso de los documentos del Pentágono y al New York Times le gusta decir que esto es un ejemplo de lo valiente que fue el New York Times al publicar este material. Bueno, en realidad, el New York Times no quería publicar los documentos del Pentágono, fue sólo porque oyeron que los documentos del Pentágono iban a ir al Washington Post que decidieron entonces publicar algunos de estos y cuando los publicaron los colocaron deliberadamente en la sección más pequeña de la portada y usaron la mayor parte de la página principal para un artículo sobre la boda de la hija de Nixon porque tenían miedo de destacarlo más de lo normal y cuando el gobierno de Obama obtuvo un mandato judicial para restringir más publicaciones, el New York Times acató la orden judicial, no decidieron "vamos a publicar de todas maneras, esta orden judicial es ilegal bajo la primer enmienda".
CD: Estoy seguro de que puede encontrar otros ejemplos, no estoy diciendo buenos o malos, estoy diciendo influyentes en lo que respecta a lo que los medios de comunicación pueden hacer en los Estados Unidos: tiene el caso de Nixon, de Watergate; tiene el caso de My Lai; de Abu Ghraib. Puede encontrar muchos de ellos y qué tan influyentes son pero mi punto es que...
JA: Pero déjeme decirle sobre algunos de estos casos. La masacre de My Lai (Vietnam): cené con Sy Hersh (el autor del reportaje) hace dos años y me contó sobre la historia, sobre cómo trató de publicar la masacre de My Lai, la llevó al New York Times y no la publicaron, la llevó a numerosos medios de comunicación dominantes y no lo publicaron, tuvo que lograr que su hermano iniciara una compañía de noticias solamente para publicar el caso de My Lai y como parte de eso creó una estructura de indemnización de modo que si el periódico que publicara el caso de My Lai fuese demandado ellos no tuvieran que pagar nada, sino que iría de regreso así que tuvo que crear un hackeo político legal fantástico y muy interesante para poder publicar el caso de la masacre de My Lai. Para Abu Ghraib (Irak), Sy Hersh estaba trabajando en esto, pero CBS también lo tenía. Fue hasta que Sy Hersh estaba a punto de publicarlo en el New Yorker que otros procedieron a publicarlo. Cuando hicimos los Diarios de la guerra de Afganistán nuestro acuerdo inicial era que el New York Times publicaría primero y teníamos estructurado eso por dos razones importantes. Número uno: si se presumía que la fuente estaba con un empleado del gobierno de Estados Unidos esto maximizaría la protección cuando llegara un caso legal porque ellos alegarían que estaba claro que ellos habían estado filtrando este material a la prensa de Estados Unidos, no a organizaciones extranjeras. Queríamos dar al New York Times un incentivo extra para que invirtieran mucho trabajo de periodismo en el estudio del material y ser el primero en publicar. Una semana antes de la publicación el New York Times pidió que nosotros fuéramos primero, que WikiLeaks fuera primero y esto fue increíble para mí porque va en contra de todos los instintos normales de un periódico de tomar la primera cucharada, más bien Bill Keller (el editor jefe) estaba tan asustado de la presión política y legal contra el New York Times que quiso convencer al New York Times de no publicar y simplemente reportar sobre lo que WikiLeaks estaba haciendo y este es el periódico más poderoso e influyente en el mundo.
CD: Pero usted siguió trabajando con ellos.

JA: Tenemos una obligación con nuestras fuentes para lograr el máximo impacto posible, ahora bien, hubo numerosos otros casos como este, por ejemplo Task Force 373, esto fue un asesinato del gobierno de Estados Unidos que operaba en Afganistán, que trabajaba para perseguir a 2 mil personas que fueron asesinadas o capturadas... algo muy serio. Ese descubrimiento se volvió la portada de Der Spiegel, el periódico semanal más influyente de Alemania, se volvió la historia de portada de The Guardian y fue escrito para el New York Times por el reportero de Seguridad Nacional Eric Schmitt y fue eliminado en un nivel editorial, así que después de varias de estas cosas dejamos de trabajar con el New York Times.
CD: Usted dijo en esta conferencia en Berkeley que los medios de comunicación del mundo desarrollado vivían en una burbuja, que usted trabaja mucho mejor con los medios de comunicación del mundo en desarrollo. No entendí esas frases ese día y trato de entender ahora cuando dice que los medios de comunicación del mundo en desarrollo tienen una voz y presencia más importante en el dominio público.

JA: En el mundo en desarrollo la estructura de poder básica de los países es todavía política. Así que eso significa que los medios de comunicación son más importantes y es más lo que está en juego para la prensa y mucha más energía es utilizada para las publicaciones y para el periodismo en el mundo en desarrollo. No me refiero a la cantidad total de dinero gastado, me refiero a la energía per cápita y al compromiso del periodista en particular, he notado por muchos años que es mucho más fuerte en el mundo en desarrollo e incluso la libertad práctica de la prensa es más fuerte en el mundo en desarrollo. ¿A qué me refiero con eso? ¿Me refiero a que no se ha asesinado o disparado a algún periodista en el mundo en desarrollo? Por supuesto que no, me refiero a que los periodistas, sabiendo que pueden recibir un disparo o pueden ser asesinados, publican de todas maneras. Mientras que en el mundo desarrollado, los periodistas, sabiendo que pueden ser demandados, despedidos, excluidos de ciertas fiestas de cóctel, excluidos de fuentes de gobierno, no publican de ninguna manera. Así que el nivel de coraje en el compromiso de los periodistas del mundo en desarrollo excede al nivel de coraje y compromiso de los periodistas del mundo desarrollado.
CD: Déjeme expresar mi duda sobre esto, porque nosotros tuvimos una guerra civil realmente cruel en los 80 y fue reportada a fondo por medios de comunicación dominantes de Europa y Estados Unidos y muchos de estos periodistas fueron asesinados y aún así otros siguieron viniendo y cubriéndola, esto fue muy importante para nosotros en términos históricos, no solamente por la situación política y cómo el resto del mundo nos observó a través de sus ojos sino que también porque dejaron un legado periodístico.

JA: Pero debe recordar que ellos estaban reportando eso en El Salvador , no estaban reportando en sus propios países. De manera que este tipo de exclusión política, exclusión financiera a la que me refería no los afecta si van y reportan en El Salvador. No estoy diciendo que no hay corresponsales valientes en el mundo, pero dejar el occidente e ir a terceros países no es necesariamente un problema del periodismo al nivel básco, de reporteo, sino más bien que el problema existe a un nivel más alto en el editorial y mientras más tiempo ha estado un periodista en un periódico más tienden a progresar en este nivel editorial y se vuelven más parte de las consideraciones de poder del periódico como una entidad de publicaciones en lugar de estar preocupado con una historia individual.
Foto Juan Carrascal
CD:¿Cómo cree usted que está cambiando la dinámica de cómo los medios de comunicación trabajan?

JA: Es muy pronto para decirlo, ciertamente muchas organizaciones editoriales están animadas a que... siempre hay un espectro para lo que es tolerable de publicar y lo que no, nosotros hemos movido este extremo del espectro de lo que no era tolerable de publicar significativamente más allá y eso le da licencia a todos de publicar aquí adentro. Las cosas que pensaron que sería muy arriesgado de publicar anteriormente ahora se ven relativamente habituales comparadas con lo que WikiLeaks ha estado publicando. Obviamente por ejemplo, publicar cientos de cables diplomáticos ahora es visto incluso como no importante, mientras que anteriormente publicar incluso solo uno de estos cables diplomáticos clasificados era visto como un acto muy difícil, al menos para que la prensa occidental se involucrara. Y por ejemplo cuando WikiLeaks publicó el primer cable diplomático, el cual era sobre Islandia, en enero de 2010, fui seguido fuera de Islandia por dos individuos cuyos registros mostraban que eran del Departamento de Estado. Y eso fue solamente por un cable diplomático y hubo una investigación en la embajada de Islandia sobre cómo fue liberado ese cable diplomático.
CD: Latinoamérica en particular y quiero tocar el tema de por ejemplo los cables de El Salvador, muestran de forma generalizada que Estados Unidos está muy preocupado e incluso interfiriendo en asuntos locales en cuestiones políticas, pero en cuestiones de seguridad están realmente preocupados por la penetración del crimen organizado, lo cual no es algo malo, lo cual es en realidad algo esperanzador. ¿Cree usted que es justo ver esto como una visión general de lo que los cables muestran en Latinoamérica?

JA: Estos cables son ricos e importantes y revelan tremendas cosas de todo el mundo, sin embargo no incluyen ninguno de los cables más secretos. Son secretos clasificados y por debajo de estos; no incluyen operaciones ultrasecretas, de modo que las actividades más escandalosas de los Estados Unidos no están allí, están entre el material ultrasecreto. Algunas veces las embajadas cometen errores y colocan el comportamiento escandaloso entre el material secreto y también están más inclinados a reportar el comportamiento escandaloso de otros que el comportamiento escandaloso de ellos mismos. Pero el Departamento de Estado no opera como una central cohesiva; existen varias ramas en el Departamento de Estado, diferentes personas en el Departamento de Estado y reflejan los buenos valores de los Estados Unidos y los malos valores de los Estados Unidos, de modo que en una mano una promoción genuina de la democracia y los derechos humanos y la preocupación sobre el crimen y la ley brutal, lo que es la cubierta publicitaria de algo que no es tan bueno como lo es la promoción de industrias de seguridad de Estados Unidos y grandes industrias en el extranjero y sus operaciones de inteligencia también por embajadas de Estados Unidos.
CD: Déjeme preguntarle un poco sobre usted. Parece como si usted vivía en algún tipo de Matrix, en un inframundo, en el mundo de los hackers y de repente pone su cabeza en el mundo real y surgen estos cambios dramáticos. ¿Cómo ha cambiado WikiLeaks su vida personal?

JA: He sido una persona pública desde que tenía 20 años de edad, en algún grado u otro, famoso solamente en Australia, pero dentro de una subcultura en particular de personas utilizando la tecnología para lograr reformas políticas, muy conocido por muchos años. Era un hacker de computadoras y empecé mi primera revista en los últimos años de la adolescencia, pero eso fue hace mucho tiempo y pasé seis años por un proceso judicial acerca de esa revista al principio de mis veintes, pero después de esto me distinguí de la primera parte de esto en la industria, estuve involucrado en promover e ingeniar el internet de muchas maneras distintas por todo el mundo y luego asegurar a los trabajadores de derechos humanos utilizando criptografía avanzada y todo esto eventualmente se unió, estos diferentes caminos para producir WikiLeaks como una solución para lo que vi que era un problema en el mundo que las decisiones que estábamos tomando como sociedades estaban basadas en la falta de conocimiento y debemos saber cómo funciona el mundo realmente si queremos dirigirlo apropiadamente. Tenemos un buen conocimiento sobre el clima, sobre química, fisiología y medicina y todas esas cosas grandiosas que la ciencia y la ingeniería nos dan, pero todas ellas están dirigidas por instituciones y gobiernos, y no tenemos conocimientos fuertes sobre las instituciones y los gobiernos y cómo trabajan en la sociedad moderna y hasta que tengamos un conocimiento fuerte sobre cómo funciona nuestro sistema de administración y cómo nuestros sistemas políticos funcionan no podemos promover teorías políticas particulares o cursos de acción sobre cómo tratar con ellos.
CD: ¿Piensa que es por eso que está siendo perseguido o procesado?

JA: WikiLeaks, en los últimos cuatro años, ha revelado mucha información muy importante de unos 120 países diferentes, pero la respuesta a nosotros también revela información importante. Por un lado, tenemos a Hillary Clinton diciendo que la censura es mala y que el internet no debe ser censurado en países como China e Irán, y por otro lado tenemos al Departamento del Estado aplicando presión a muchas organizaciones para que nos detengan, y esto incluye como el ejemplo más dramático el bloqueo económico entablado por Visa, MasterCard, Bank of America, Paypal, Moneybookers, Western Union y así sucesivamente, así como la presión aplicada a compañías estadounidenses como Amazon para que no se ocupe de infraestructura técnica, intentos de agregarme personalmente y a WikiLeaks a la lista de Personas Especialmente Designadas de Estados Unidos, lo que es similar en negociación de acuerdos a los usados en Cuba y Al Qaeda, proyectos de ley en el Senado de Estados Unidos para declararnos una amenaza transnacional para convertirnos a todos en combatientes enemigos, para que podamos ser vistos como blancos como Al Qaeda, y todas estas cosas solamente por publicar.
CD: Antes de que comenzara con estos tres paquetes (Afganistán, Irak, los calbes diplomáticos) y el cuarto (Guantánamo), ¿se vio a usted mismo en este riesgo? ¿No tuvo miedo de terminar en prisión como Bradley Manning, en manos de un gran jurado en los Estados Unidos?
JA: Sí, vimos este riesgo de manera muy clara, nos hemos involucrado en muchas maniobras y estrategias diferentes para intentar minimizar el riesgo, pero todos estamos conscientes de que el valor de esta información supera al valor de nuestras vidas y que debe ser publicada a todo costa. Hubo un tiempo en que el Pentágono, el Departamento del Estado, la Inteligencia de Estados Unidos estaba persiguiéndome e investigando a todos nosotros antes de la publicación de los cables diplomáticos, donde no estábamos seguros de que ganaríamos, donde no estábamos seguros de que la información sería publicada eventualmente.
CD: ¿Lo haría de nuevo?

JA: Por supuesto.
CD: ¿Sí? ¿Aún cuando sabe que los riesgos son grandes?

JA: Bueno, los riesgos son grandes. Se está gestando un caso de extradición, nuestra gente es detenida cada vez que pasa por la frontera de Estados Unidos, pero si miramos a los riesgos tomados por los revolucionarios en El Cairo, Egipto y Túnez, y en otros lugares, realmente lo que estamos sufriendo es mucho menor en comparación.
CD: La otra cara de la moneda es que se ha convertido en una de las personas más famosas en el mundo. Rolling Stone le nombró "Estrella de Rock del año". ¿Qué cree que debe hacer, en términos morales, con esta fama que tiene?

JA: Siempre es un privilegio tener una audiencia, y esto es algo que he dicho antes, este intenso nivel de fama, estamos en una posición curiosa ahora, de ser capaces de promover el material que los denunciantes nos están dando como resultado de nuestra propia fama como organización. Esto viene con muchos costos, así que el costo con el que viene es muy difícil hablar con cualquiera ahora porque cada conversación vale dinero y puede ser torcida, cada reunión que tengo, la gente puede informar erróneamente, y hay una economía y un enemigo que apoyar, de modo que nos ha vuelto más bien recluidos, lo que es difícil. Por otro lado, nos ha dado una formidable plataforma desde la cual promover nuestros valores.
CD: ¿Cuál es su rol histórico?

JA: La manera en que la historia está progresando, está cambiando, de modo que podemos ver cuál puede ser nuestro rol en el mundo usando la fórmula de la historia que ha ocurrido en los últimos 50 años, pero la manera en que la historia se puede desarrollar en los siguientes 50 años va a ser muy diferente. Pero estamos muy orgullosos de nuestros logros y muy orgullosos de habernos apegado a nuestros valores de manera tan fuerte contra una oposición increíble, y eso es algo que no puedo ver que cambie. Queremos un cambio en el terreno, y tenemos ciertos…
CD: ¿En qué sentido? ¿Qué le satisfaría en el terreno?
JA: Somos una organización que intenta promover la justicia por medio de mecanismos particulares. Para mí la justicia es el valor central y la libertad de expresión es el derecho habilitador central, de modo que todos los derechos luchan por sí mismos en el cuerpo político usando el discurso, así que, si no hay discurso, no hay derechos, porque nadie sabe cuáles son estos derechos. La expresión es el derecho habilitador supremo, y el sentimiento o la voluntad hacia la justicia es el sentimiento político más importante. Cada vez que vemos algo que es injusto, este sentimiento de injusticia también es un sentimiento de lo que es justo. En nuestras actividades siempre hemos presionado por este mecanismo de fomento de la justicia, que son los derechos de las personas a comunicarse una con otra, y somos un centro para esto, en el sentido de que tomamos gente que tiene dificultades para comunicarse con otras debido a amenazas de fuerza física contra ellas, o de ataques legales, y les ayudamos a comunicar al público lo que saben, y una vez que el público lo sabe, se encuentra con frecuencia en una posición donde puede cambiar su ambiente en una forma que le permita ser más justo.
CD: ¿Así que más justicia es lo que le gustaría ver como cambio en el mundo?

JA: Sí, ¿pero cómo se vería eso realmente? Lo que estás preguntando. Viví en Cairo por varios meses en 2007 y pude ver la injusticia del régimen de Mubarak y sus 20 mil prisioneros políticos, una policía secreta de más de 100 mil, eso es algo que es injusto. Ahora, no es correcto decir que Egipto se ha convertido de pronto en un paraíso político; el rol del ejército en Egipto es muy fuerte y habrá egipcios que tendrán muchos años de lidiar con la fuerza del ejército en Egipto, pero parece que la nación tiene una esperanza, se ha movido a una posición mucho más justa.
CD:Ha entrado en un nuevo proceso.

JA: Sí, un proceso más nuevo que en el que estaba, y ese es el sentimiento, hasta donde puedo determinar, de la mayoría de egipcios. Así que nos gustaría ver este tipo de proceso ocurriendo en todas partes. No tiene que ser en la anterior revolución; los regímenes políticos más inteligentes simplemente hacen concesiones. Eso está sucediendo en Arabia Saudita, también lo vemos sucediendo en Yemen, que esas élites gobernantes están haciendo concesiones a la población, concesiones importantes, con el fin de conservar algo de poder, así que me gustaría verlo suceder por todo el mundo, incluyendo al Occidente. Las élites gobernantes no hacen concesiones por diversión; solamente lo hacen cuando están atemorizadas de perder poder, y esta es simplemente la única manera de conservar un poder efectivo.
CD: Pero, ¿esto solo funcionaría con regímenes autoritarios?

JA: Hay un problema en el Occidente, que es que la fiscalización ha moldeado profundamente a las sociedades. Algo que es más bien optimista es la censura que ha ocurrido sobre nosotros por parte de los Estados Unidos y otros gobiernos occidentales; mi propio gobierno en Australia, en respuesta a la presión de Estados Unidos, inició toda una investigación del gobierno sobre nosotros, incluyendo al servicio de inteligencia doméstico, el Servicio Internacional de Inteligencia, la Policía Federal de Australia, la que está incluida en el FBI, el Departamento de Defensa y el Fiscal General declararon públicamente. También tuvimos una fuerza especial de la CIA declarada públicamente contra nosotros. Y todas estas presiones coercitivas embarazosas aplicadas a nosotros mediante el sector financiero. ¿Por qué es eso? Porque las élites gobernantes en Washington tienen miedo de lo que estamos publicando y eso siempre es una señal extremadamente optimista. Por ejemplo, China tiene una censura tan extrema en internet porque las élites gobernantes en China tienen miedo de que la expresión en internet reforme a China. Similarmente, Tailandia tiene una censura muy extrema en internet porque tienen miedo de que la expresión reforme las estructuras de poder de Tailandia. Las estructuras de poder de Estados Unidos, estando tan fuertemente fiscalizadas, han significado históricamente que esas élites gobernantes no tienen miedo de la expresión porque, digas lo que quieras, no los va a cambiar. En nuestras publicaciones recientes hemos logrado hablar y dar información con tanta intensidad y con tanta agresividad que ha asustado a esas élites gobernantes, haciendo que se comporten como la Unión Soviética acostumbraba comportarse en términos de censura, haciendo que se comporten como el gobierno chino se comporta. Así que eso de hecho muestra que, una vez que hablas con suficiente poder, puedes reformar incluso a Washington, pero necesitas hacer algo como comenzar publicando 250 mil cables diplomáticos secretos de Estados Unidos para llegar a tal nivel, pero si podemos llegar a ese nivel continuamente y otras personas pueden llegar a ese nivel, entonces existe una oportunidad decente de reformar a Washington y a otras élites occidentales y esta estructura de poder fiscalizada.
CD: Suena como un hombre muy optimista.

JA: Lo soy. La censura siempre es una oportunidad. Donde sea que veas censura, esta es la cosa más bella en el mundo.
CD: ¿Cómo? ¿Por qué?

JA:Porque significa que quien sea que está cometiendo esta censura está atemorizado de la reforma. ¿Y por qué estaría asustado de la reforma? La única razón por la que estarías asustado de la reforma es porque es posible que seas reformado. Cuando caminamos solos y oímos a un insecto haciendo un sonido no le prestamos atención en absoluto, porque sabemos que el insecto no puede tener influencia sobre nosotros, pero si caminamos solos y oímos a un león haciendo un sonido, le prestamos mucha atención, y la censura es una forma de señal económica que revela cuánto la organización que comete la censura cree que la expresión es importante, así que creo que es muy optimista.