Julian Assange extradition hearing decision – live updates
The WikiLeaks founder returns to court to learn if he will be extradited to Sweden in relation to allegations of rape and sexual assault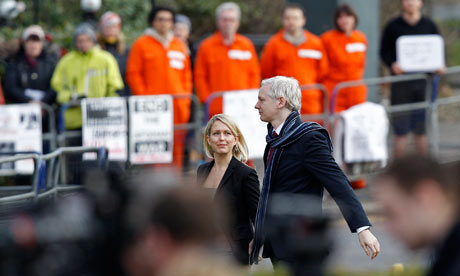 Julian Assange arrives with his lawyer Jennifer Robinson at Belmarsh magistrates court Photograph: Stefan Wermuth/REUTERS
Esther Addley offers the following:
And that - unless there are any further developments - rounds off the liveblog.
Belmarsh was a rubber stamping process. It comes as no surprise but is nevertheless wrong. It comes as the result of a European arrest warrant system amok.




There was no consideration of the allegations made against me. No consideration of the complaints against me in Sweden.




We have always known we would appeal. We have always known in all likelihood we would have to appeal. Ninety five percent of all European arrest warrants are successful [...]




[...] What does the United States have to do with a Swedish Extradition process?




It has been falsely stated that I said the CIA or Pentagon was involved in the initial allegation. I have never said that. I have never said who was behind those allegations, simply that they were untrue.




Why is it that I am subject - a non-profit free speech activist - that I am subject to a £200,000 bail, that I am subject to house arrest when I have never been charged in any country.




The scrutiny of the European arrest warrant system needs to begin now, it cannot be the case that filling two pages with someone's name and a suspicion - not a charge - can lead to their extradition to one of 26 European nations.




Three people a day are being extradited from the UK under a rubber stamp process.
The passage between the ellipsis - my notetaking let me down at that point - concerns a comment on the Andrew Marr show from the US ambassador to the UK that "we'll have to see how it plays out in the British courts" (transcript here).
Mr Hurtig said in his statement that it was astonishing that Ms Ny made no effort to interview his client. In fact this is untrue. He says he realised the mistake the night before giving evidence. He did correct the statement in his evidence in chief (transcript p.83 and p.97). However, this was very low key and not done in a way that I, at least, immediately grasped as significant. It was only in cross-examination that the extent of the mistake became clear. Mr Hurtig must have realised the significance of paragraph 13 of his proof when he submitted it. I do not accept that this was a genuine mistake. It cannot have slipped his mind
The ruling should be coming soon ... on the absence of press or public at a Swedish rape trial, the judge says it is "certainly alien" to the UK but it does not offend the European convention on human rights.
• Of Assange, he says: "It would be a reasonable assumption from the facts that Mr Assange was deliberately avoiding interrogation before he left Sweden."
Assange has arrived at Belmarsh and the hearing will begin soon.
The defence argued the Swedish prosecutor had no authority to ask for Assange's extradition under the warrant, and furthermore that extradition could not be for questioning. The barrister representing the Swedish prosecutor said the intention was to prosecute him and that the allegations made against Assange by two Swedish women would be offences under English law too.
The most serious of the four allegations relates to an accusation that Assange, during a visit to Stockholm in August, had sex with a woman, Miss B, while she was sleeping and without a condom, against her consent. Three counts of sexual assault are also alleged against another woman, Miss A. If found guilty of the rape charge he could face up to four years in prison.




Since there is no system of bail in Sweden, he would be detained in custody if extradited until a possible trial or release.
Assange denies the allegations. The hearing begins at 10.30am.
• This report is compiled by Simon Jeffery at the Guardian based on the Twitter feed of Esther Addley at Belmarsh magistrates' court