Up to Date News on Julian Assanges Court Hearing – part 2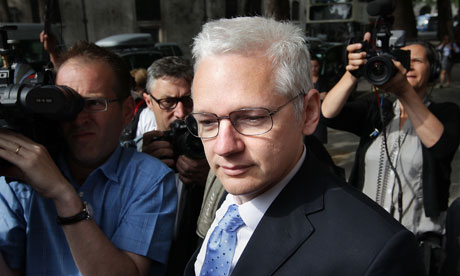 3.40pm: The Assange team is raising issue of "whether the requested person is an accused" and if a prosecution has "commenced". If not, then the warrant is not valid, they say.


3.22pm: At the high court, Robert Booth points out how dry the Assange team are "with all this legalese about EU law" – a new tack. No more shrill claims about Assange ending up in Guantanamo.
3.10pm: The Assange team says the use of an EU arrest warrant for pre-prosecution questioning is not allowed under UK law.


The European arrest warrant "has been controversial since it was introduced in 2003, creating everyday injustices", Afua wrote. It was agreed a week after 9/11 and sold to voters as a way of ensuring cross-border cohesion in prosecuting suspects wanted across Europe for terrorism and serious crime.
It's been downhill from there. Around three people per day are now extradited from the UK, and there is little to suggest that the majority are terrorists or serious criminals. In fact those involved in the process agree that many of the cases are "trivial".
She goes on to say that last year Poland accounted for 40% of British extradition requests, giving the example of a case against a man who went over his overdraft limit, which would be a civil, not criminal matter in the UK.
3.02pm: The Assange team thinks it is "profoundly unjust" if allegations are made to satisfy "dual criminality" test for extradition when they actually do not satisfy this test.


2.58pm: The warrant must be a "fair and accurate" version of the claims, Emmerson says, and the court must ask if what is detailed there would be a crime in England, authorities say, according to Emmerson.


2.52pm: Robert Booth at the high court says the debate over the European arrest warrant has "gone into hyperspace", with Assange's barrister Ben Emmerson talking at double speed. The application could be significant though, Robert says.


2.36pm: If Assange is extradited to Sweden, and the US were then to request his extradition, what would happen to the Swedish case?


It is worth remembering that there are no extradition proceedings currently pending against Assange from the US.
I have just been speaking to Joshua Rozenberg, who writes for the Guardian's law site. Rozenberg told me that under the terms of the European arrest warrant, the Swedes would not be able to set aside their own case and pass Assange on to the US. "They are not allowed under the deal to send him to the US on other charges," Rozenberg said.
If, on the other hand, the US requested Assange's extradition while the Swedish extradition request was still being decided, the British home secretary would have to decide which request to give precedence to. Rozenberg said he thought the home secretary would be likely to favour the US, on the assumption that the charges from the US would be likely to be more serious.
In addition, Julian Knowles, a barrister at Matrix Chambers, has said that Assange's contention that he should not be extradited to Sweden because he might be extradited to the US, where he might face the death penalty or detention in Guantanamo Bay, is "frankly, a hopeless argument".
Amy Jeffress, the US justice department's attache to the American embassy in London, told the BBC's Law in Action: "The president, of course, has decided to close Guantánamo Bay, and so no one is going to Guantánamo Bay and that claim is baseless." She said the US always gave assurances in any case for which it had requested extradition that prosecutors would not seek the death penalty.
2.36pm: I am going to try to answer some of the most frequent questions posed below the line as we go:


Why is Assange facing extradition to Sweden when there are as yet no charges against him there?


Under the Swedish legal system, charges are laid after extradition and a second round of questioning.
Maya Wolfe-Robinson of guardian.co.uk's law site adds:
In terms of the charges in Sweden, if you read the judgment when the judge ruled that he should be extradited, the judge found that "the proceedings in Sweden are at the preliminary investigation stage. The preliminary investigation does not come to an end until evidence is served on Mr Assange or his lawyer and there is an interrogation of Mr Assange with the opportunity for further enquiries. Thereafter there is a decision as to charge. If charged the trial is likely to take place shortly thereafter.
2.23pm: Lord Justice Thomas and Ben Emmerson are having an argument about the European arrest warrant regime. Should Assange see all the evidence now?
2.17pm: Reuters points out that permission to appeal to the supreme court if Assange loses this appeal will only be granted on a point of law considered to be of general public interest.
2.14pm: The Press Association has put up a bit more from this morning's session. Ben Emmerson, Assange's QC, said that one of Assange's alleged victims described his behaviour at one point as "very strange" and talked of "just wanting" sex to be "over with". Emmerson said:
Her words may indicate she was not particularly enjoying what was going on. But they certainly do not go anywhere near what we would regard in this country as lack of consent.
He said the high court had to decide whether the "acts" would have been offences had they happened in England.
What [Swedish prosecutors] must prove beyond reasonable doubt is that if these circumstances as alleged had happened in London, would they have constituted offences? [There are] very serious questions on dual criminality in [three charges]. [There are] very serious questions on whether what happened in charge four could have recognisable as a charge in this [country].
Emmerson said there was evidence that Assange's lawyers had not seen because under Swedish law prosecutors were not obliged to reveal it until proceedings were at a later stage.
2.10pm: Assange has arrived late to the afternoon session.
2.02pm: Robert Booth has sent more from the high court, where proceedings are about to start again.
• Julian Assange's legal team is arguing that the European arrest warrant issued against the WikiLeaks founder is invalid, because of significant discrepancies between its allegations of sexual assault and rape and the testimonies of the two women he allegedly had sex with.
• Ben Emmerson QC told the court that the warrant – which details four allegations of unlawful coercion, sexual molestation, and rape relating to encounters between Assange and two Swedish women, known as SW and AA, on a trip to Stockholm last year – was a misinterpretation of the evidence and it was "surprising and disturbing" that Swedish district judges who requested Assange's extradition had been misled.
• Emmerson told Lord Justice Thomas and Mr Justice Ousely that there was no evidence that there was a lack of consent in the encounters, as appeared to be suggested in the wording of the arrest warrant, and that three of the allegations would not amount to criminal offences
under English law. Referring to the allegations in the European arrest warrant, Emmerson said:
The senior district judge found that those factual allegations would establish dual criminality on the basis that lack of consent, and lack of reasonable belief in consent, may properly be inferred from the conduct described, particularly the references to "violence" and a "design" to "violate sexual integrity". However, that description of conduct is not accurate. The arrest warrant misstates the conduct and is, by that reason alone and invalid warrant.
• Of the encounter on 13 August between Assange and AA, Emmerson said:
The appellant [Assange]'s physical advances were initially welcomed but then it felt awkward since he was "rough and impatient" … They lay down in bed. AA was lying on her back and Assange was on top of her … AA felt that Assange wanted to insert his penis into her vagina directly, which she did not want since he was not wearing a condom … She did not articulate this. Instead she therefore tried to turn her hips and squeeze her legs together in order to avoid a penetration … AA tried several times to reach for a condom, which Assange had stopped her from doing by holding her arms and bending her legs open and trying to penetrate her with his penis without using a condom. AA says that she felt about to cry since she was held down and could not reach a condom and felt this could end badly.
But crucially, Emmerson said, there was no lack of consent sufficient for the unlawful coercion allegation, because "after a while Assange asked what AA was doing and why she was squeezing her legs together. AA told him that she wanted him to put a condom on before he entered her. Assange let go of AA's arms and put on a condom which AA found her."
• The case does not hinge on whether Assange accepts this version of events and others relating to other incidents because there are no charges against him, but whether the arrest warrant in connection with them is valid on "strict and narrow" legal grounds, Emmerson said.
As if to illustrate the change of strategy of Assange's new legal team, Emmerson said:
Nothing I say should be taken as denigrating the complainant, the genuineness of their feelings of regret, to trivialise their experience or to challenge whether they felt Assange's conduct was disrespectful, discourteous, disturbing or even pushing at the boundaries of what they felt comfortable with.
Spread the Word!: