Source:
WikiLeaks: the latest developments
Today: Julian says he wants his book to be 'one of the unifying documents of our generation', plus more news and views on the US embassy cables leak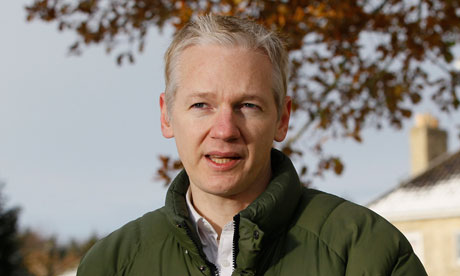 WikiLeaks founder Julian Assange outside Ellingham Hall in Norfolk Photograph: Kirsty Wigglesworth/AP
The US state department has relocated a handful of foreign diplomatic sources identified in the secret embassy cables released via WikiLeaks and warned hundreds of others about their safety, American officials say.
It is not aware of anyone who has been detained or assaulted as a result of the 2,700 cables released so far through several newspapers, including the Guardian. But the state department has set up a 30-strong team to warn foreign officials, businesspeople and human right activists identified in the main cache of more than 250,000 cables.
The cable - known as the "Glaspie cable" after its author, US ambassador April Glaspie - was already noteworthy before WikiLeaks. It concerns a meeting between Saddam Hussein and Glaspie and has come to be seen by some as evidence that the US gave Iraq a green light to invade Kuwait, with Glaspie telling Saddam the US took "no position on these Arab affairs".
Anyone wondering why I'm mentioning this now and not, say, a few days ago – I got waylaid by the series of leaks and counter-leaks surrounding their meeting, and was under the impression Glaspie's cable had been declassifed in 2008. Maybe it was, but the WikiLeaks publication is the only one I can find online.
It is worth reading. Titled Saddam's message of friendship to President Bush, Glaspie describes their meeting as the first time "in the memory of the current diplomatic corps" that the Iraqi leader had summoned a US ambassador. Relations are at that time tense between Iraq and Kuwait. Saddam bemoans Iraq's economic state - at one point suggesting it deserves a "Marshall plan" for losses sustained in the Iran-Iraq war - and accuses the Kuwaitis of overproducing oil, which he says means Iraq is not getting the high prices for its oil he says it needs.
The "no position on these Arab affairs" section is below, concerning a border dispute with Kuwait. Mubarak is the Egyptian president, who was mediating between the two sides.
ON THE BORDER QUESTION, SADDAM REFERRED TO THE 1961 AGREEMENT AND A "LINE OF PATROL" IT HAD ESTABLISHED. THE KUWAITIS, HE SAID, HAD TOLD MUBARAK IRAQ WAS 20 KILOMETERS "IN FRONT" OF THIS LINE. THE AMBASSADOR SAID THAT SHE HAD SERVED IN KUWAIT 20 YEARS BEFORE; THEN, AS NOW, WE TOOK NO POSITION ON THESE ARAB AFFAIRS
There has been plenty of US commentary on the cable. Juan Cole, a Middle East specialist, says it exonerates Glaspie – noting that she pressed Saddam on the meaning of his troop build-up on the Kuwaiti border ("What are your intentions?" she asks) and that her "no position" referred strictly to the Iraq-Kuwait border. "Ms Glaspie's detractors owe her an apology," Cole concludes.
The Foreign Policy blog has another post looking at the background and Glaspie's diplomatic career.
WikiLeaks has helped redefine our idea of investigative journalism and our understanding of how information should be disseminated. Assange, the visionary creator of and driving force behind this new publishing phenomenon, has a unique perspective on how WikiLeaks has evolved into one of today's most influential and fearless news organisations.
In this revelatory account, Assange expands on the philosophies that underpin his stateless, ground-breaking media company. He draws on his own fascinating life story and offers compelling insights into the mercurial and highly driven man who has forced us to radically rethink such basic ideas as transparency, democracy and power.
"I hope this book will become one of the unifying documents of our generation. In this highly personal work, I explain our global struggle to force a new relationship between the people and their governments." – Julian Assange
Regardless of what happens to Assange, Wikileaks has the potential to catalyze a worldwide campaign that could do for the Internet what the Greens did for the environment in the 1970s: start a much-needed conversation about the potentially corrosive impact of corporate interests on the public good, a conversation that may eventually coalesce into a broader political movement
"Inside WikiLeaks: My Time with Julian Assange at the World's Most Dangerous Website" will "reveal the evolution, finances, and inner tensions" of WikiLeaks, according to Crown Publishing. Domscheit-Berg will also explain why he left WikiLeaks and his "disenchantment with the organization's lack of transparency, its abandonment of political neutrality, and the increasing concentration of power by Assange"
Finally, here is a line from the Morozov piece picked up on Twitter by Clay Shirky. It is a concise a summary as any of one of the key developments of the last five or six weeks.
Pre-WikiLeaks, it seemed unlikely democratic governments would bully net businesses rather than use the legal system