WikiLeaks: the latest developments
The return of You ask, we search, the Twitter subpoena, Hillary Clinton's 'apology tour' of Arab states, plus more news and views on the US embassy cables leak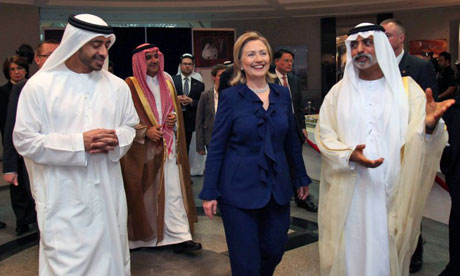 US Secretary of State Hillary Clinton with UAE foreign minister Sheikh Abdullah bin Zayed bin Sultan Al Nahyan (left) at the beginning of a five-day 'apology tour' of Arab countries Photograph: Ali Haider/EPA
If you can, please be as specific as possible in terms of embassies, names and dates. Please bear in mind also that the cables are communications between Washington and its embassies (eg nothing about the Kennedy assassination) and go up to February 2010, with the greatest concentration in the last decade. Finally, we've already looked and there is nothing to suggest the existence of UFOs or that 9/11 wasn't carried out by 19 terrorists on four hijacked aeroplanes.
We will be posting the results of the searches in this blog alongside the day's WikiLeaks-related developments. More of these below ...
• A US court's subpoena for information on WikiLeaks members' Twitter activity has raised objections in Iceland, where Birgitta Jónsdóttir, an MP, is one of those named in the document. Iceland's foreign ministry has demanded a meeting with Luis Arreaga, the US ambassador to Reykjavík, while the interior minister, Ogmundur Jonasson, has spelled out what it is the country finds so objectionable:
[It is] very serious that a foreign state, the United States, demands such personal information of an Icelandic person, an elected official. This is even more serious when put [in] perspective and concerns freedom of speech and people's freedom in general
• Hillary Clinton has likened her recent diplomatic activity to a post-WikiLeaks "apology tour". She told reporters at the beginning of a five-day visit to Arab countries (many of whom were revealed to be asking the US to take a harder line against Iran) that she believes she "will be answering concerns about WikiLeaks for the rest of my life, not just the rest of my tenure as secretary of state." From the Washington Post:
Clinton said she had quipped to one of her aides that she needed a tour jacket, similar to the ones used by rock bands, that would have a "big picture of the world and would say 'The Apology Tour' " on it. Although the intensity has abated somewhat, the fallout from the WikiLeaks affair "is still in the atmosphere," she said
• WikiLeaks has been losing more than £400,000 a week since the publication of the embassy cables, Assange said in an interview with two Swiss newspapers. He also discussed moving WikiLeaks to the country. "Switzerland is a possibility; and our main domain name is a .ch," he told Tribune de Genève and 24 Heures. "Despite strong pressure, the Switch company, which manages domain names [in Switzerland] has held out," he said.
The 23-year-old army intelligence analyst suspected of providing documents to WikiLeaks, can't reasonably complain that the military has him in custody. But the conditions under which he is being held at the Marine detention center at Quantico, Virginia, are so harsh as to suggest he is being punished for conduct of which he hasn't been convicted
"The Department of Justice is turning into an agent of harassment rather than an agent of law," Stephens, of the firm Finers Stephens Innocent LLP, said. "They're shaking the tree to see if anything drops out, but more important they are shaking down people who are supporters of WikiLeaks."
The real story of WikiLeaks has yet to be told and this book will lift the lid on the Guardian's unique partnership with Julian Assange, one of the world's most controversial figures. Readers will have a ringside seat as the extraordinary twists and turns of the WikiLeaks story unfold. It's a story of secret document dumps, spying and sex allegations, written by Guardian journalists who worked with Assange and followed his mission every step of the way. This book will bring you as close to the unvarnished truth as you're likely to get